Ok I got a question for those that know - I'm debating between the Optoma Neo Dock with pico projector or the AAXA M2 projector + Tweakers. Here's what I'm thinking:
1. Optoma Neo Dock
http://www.projectorsuperstore.com/product_details.cfm?productid=29270&aid=GoogleRSS
Pros:
All in one system
Optoma name
Probably great speakers
Cons:
Expensive at $449
Lumens is only 50
Resolution is only 858x480
It's really big
2. AAXA M2 + Cable + Tweakers
AAXA Technologies M2 Micro Projector | Overstock.com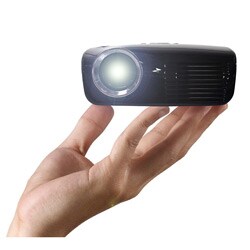 Pros
Less expensive $344 on Amazon
Better resolution (1024x768)
Better brightness (110 lumens)
More portable
Cons
Have to have 2 separate devices
Not Optoma brand quality
What do you guys think? I like the idea of the Optoma dock, I just wish it wasn't the size of my Playstation...