Joined

Feb 28, 2006
Messages

511
Points

0
Age

35
Location
Website
The new Nine Inch Nails album,
Year Zero
will be released on April 17. For about 2 days now, fans have been scrambling to piece together a puzzle regarding information about the album.
The following web sites are believed to be associated with it:
http://www.iamtryingtobelieve.com/
http://www.anotherversionofthetruth.com/
(click and drag cursor over image)
http://www.churchofplano.com/
http://www.bethehammer.net/
http://www.105thairbornecrusaders.com/
http://www.consolidatedmailsystems.com/nooneimportant/
One of the new tour shirts: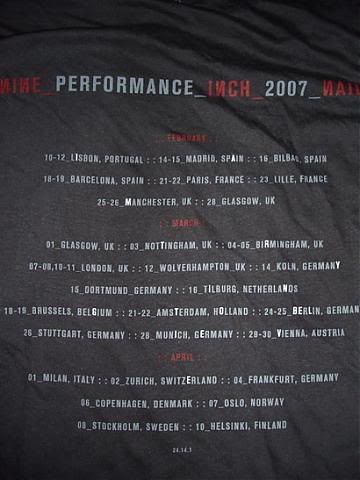 has certain letters highlighted which spell "I Am Trying to Believe." Another shirt did the same thing with numbers. Apparently, when called from a phone, a strange voice mail is played with a clip of a new song.
And my favorite...
Most of the websites mention something called The Presence (pictured below) which is presumed to be a reference to the lyrics of the song "The Wretched" from
The Fragile
, "The clouds will part, and the sky cracks open and God himself will reach his arm through."
A leaked song "My Violent Heart" was found by someone on a flash drive in a bathroom stall at a recent concert in 320kbps MP3 format. It ends with a static noise and someone decided to run it through a spectrograph program and the song was found to produce the
following image
.
There are so many other intricate things that the fans are obsessing over. At first, I thought that it was gimmicky, but it's actually pretty clever. This is like Christmas for a marketing major like me. I can't wait for this album and it looks like it's going to be quite a wait. For anyone else intrigued by this, there's much more information in the
Wikipedia article
.