Joined

Jan 17, 2009
Messages

20
Points

0
Website
I have done extensive research and have found several recommendations for the maximum length of a M4A audiobook to avoid playback problems. The problem usually results in playback stability issues such as the bookmark position being lost or the iPod skipping to the next item in your playlist while you are in the middle of a long audiobook.
The problem is very prevalent on the Video iPod (of course this is what I have) and less so on the newer iPods.
The recommendations I have found on this forum and other places are in the form of a maximum length in hours (usually less than 5 hours) and/or in the size of the file. I have found that neither length in hours or the file size appear to the main driver for the stability issues.
I have found that
if the number of audio samples exceeds approximately 700 million samples, then the stability problems occur.
See the chart below of information I compiled some time ago.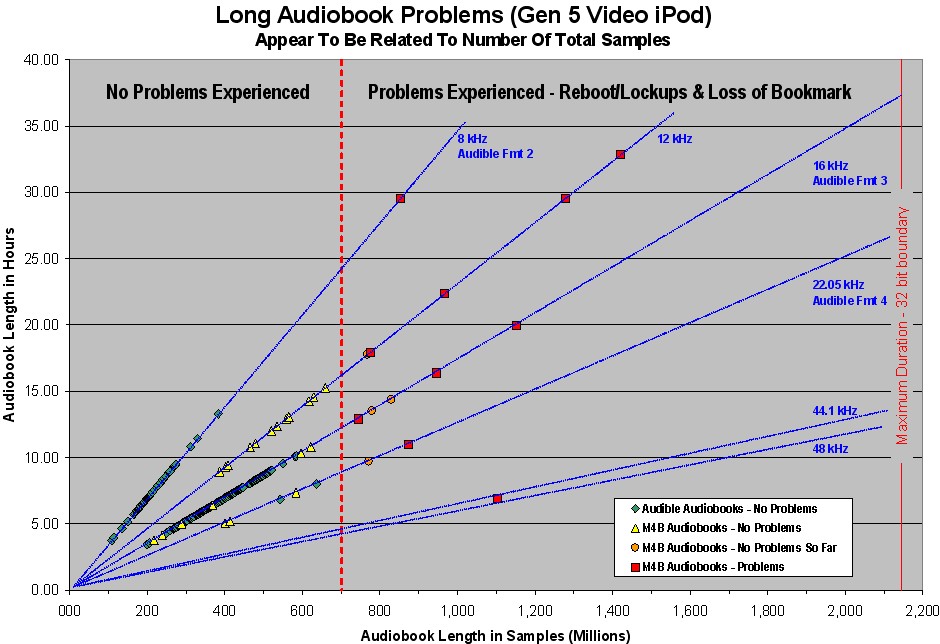 This means that if you limit the audiobook to 700,000,000 samples, then the length of the audiobook will be below the max length in hours listed in the table below.
Sample rate of 8.0 kHz = 24.3 hrs max
Sample rate of 12.0 kHz = 16.2 hrs max
Sample rate of 16.0 kHz = 12.2 hrs max
Sample rate of 22.05 kHz = 8.8 hrs max
Sample rate of 24.0 kHz = 8.1 hrs max
Sample rate of 32.0 kHz = 6.1 hrs max
Sample rate of 44.1 kHz = 4.4 hrs max
Sample rate of 48.0 kHz = 4.1 hrs max
I normally encode my audiobooks as mono with a bitrate of 16kbs and at a sample rate of 12.0 kHz. Using these import settings in iTunes I can create audiobooks that are slightly over 16 hours long without playback issues.
I use the "Chapter & Verse" audiobook creation software I created which is available on my website (lodensoftware . com)
Hopefully this will be of use to those of you looking to maximize the size of your audiobook without needing to split it into multiple parts.