Joined

Jan 17, 2009
Messages

20
Points

0
Website
I have no desire to take away from Steve Haley's efforts.
I have also created a Windows program to create audiobooks with chapters.
My program is called
Chapter and Verse.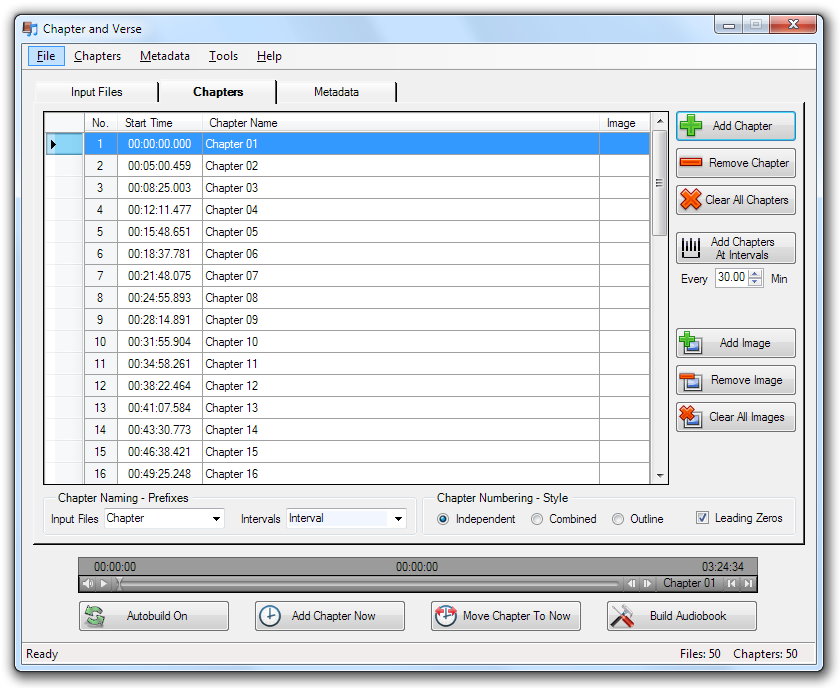 I have just released version 1.3 which now has support for chapter images, 14 metadata fields and more. Just like iPod ABC, my software is
freeware
. It can be downloaded from...
http://www.lodensoftware.com
The focus of C&V is slightly different than iPod ABC.
C&V allows the user to import a single or multiple m4a (aac) files and combine them into a single audiobook. C&V allows you to edit the chapters, add chapter images and metadata (14 different tags along with the cover artwork). In addition to automated chapter creation, the graphical user interface and virtual audiobook player allow custom placement and fine tuning of chapters and chapter images. C&V also allows editing of the finished audiobook where iPod ABC does not.
iPod ABC focuses on automated file conversion and automated chapter creation.
So depending on your focus you may prefer one over and since they have different capabilities, you may also want to have
both!